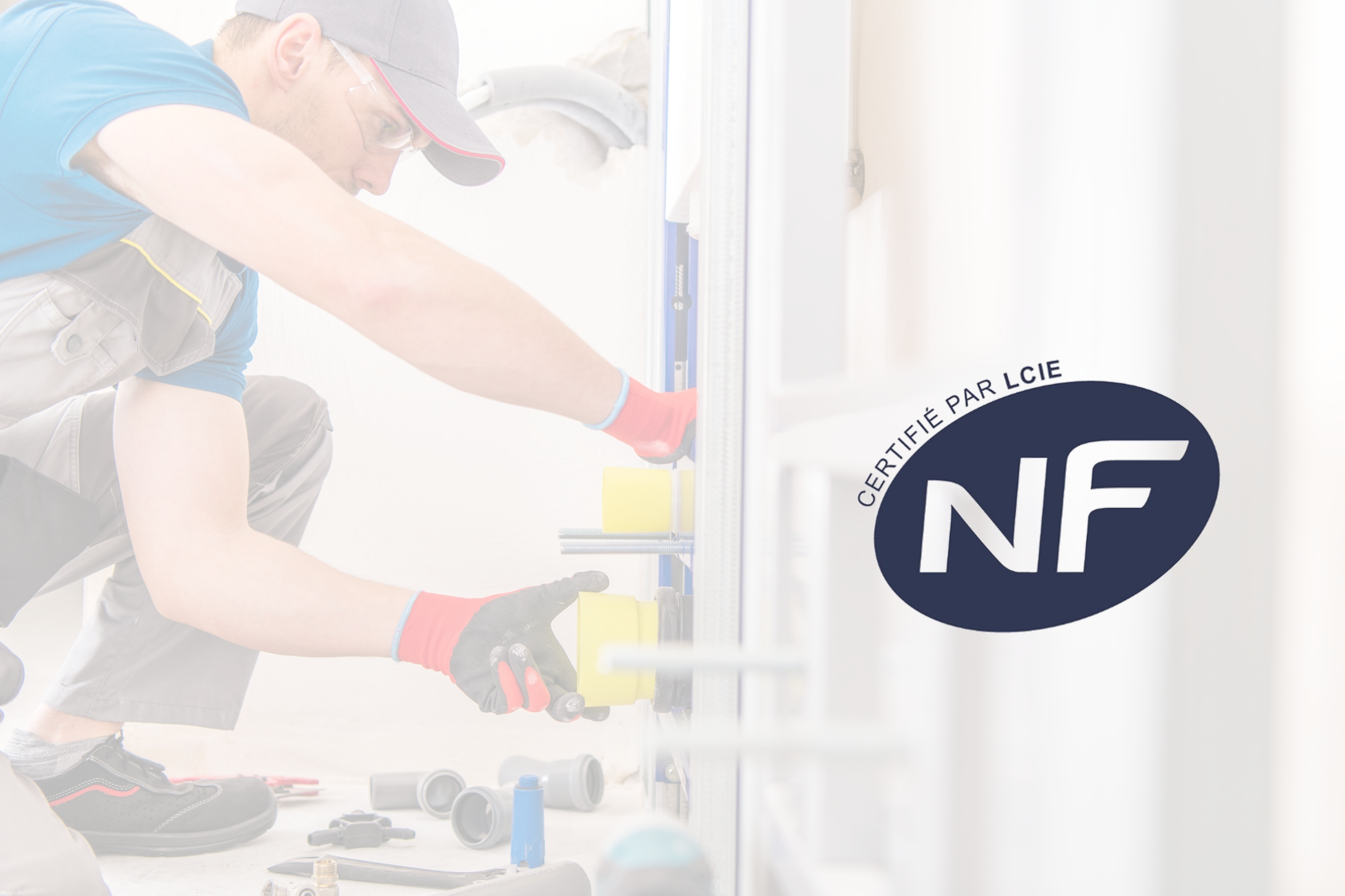 WHAT IS THE NF mark?
A sign of recognition and a pledge of trust, the NF mark reassures consumers and professionals (design agencies, distributors, installers and manufacturers) in their decisions. The NF mark not only ensures compliance with the enforceable standards but also with additional quality criteria corresponding to users' needs. The label is generated from a voluntary approach on the part of professionals wishing to enhance their commitment to quality and performance.
The NF mark distinguishes safe, reliable and efficient products that comply with the requirements of the enforceable standards in terms of safety (fire, electric shock, etc.), functional performance, energy efficiency, etc. It guarantees a lasting level of quality. The production sites are audited at least once a year. In addition, NF certified products are checked regularly by taking samples from production sites and the market at large. This entire process ensures the independence and impartiality of the NF mark.
LCIE Bureau Veritas is mandated by AFNOR Certification to issue the NF and NF Environment marks, as an independent and accredited certification body, recognized internationally.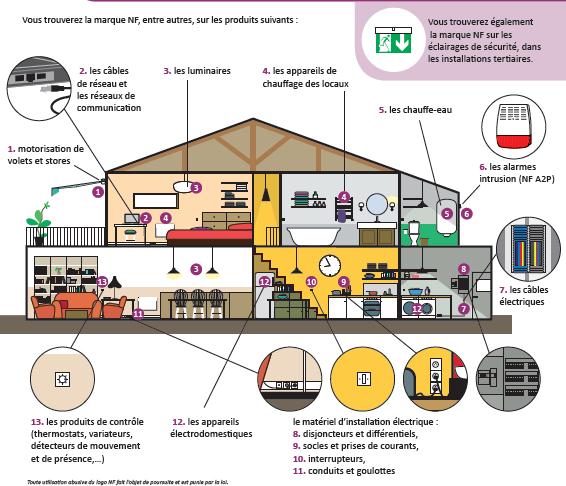 LCIE BUREAU VERITAS DELIVERS THE "NF" ON THE FOLLOWING EQUIPMENT:
NF MARK
Electrical installation and communication equipment
conductors and cables
installation equipment
conduits and ducts
communication network infrastructure equipment
data cables
Electrical and electronic products
household appliances
consumer electronic equipment
Light fixtures and associated components
autonomous electrical safety devices
Electronic components
NF Environment mark 
Self-contained emergency evacuation lighting units
Autonomous emergency lighting units
Self-contained emergency lighting units for residential buildings
Self-contained lighting units for bedrooms
NF OPEN LABEL
For electrical or electronic products for which there is currently no specific NF application, LCIE Bureau Veritas has created an "open" NF mark which offers the possibility of assigning the NF mark to your product.
Examples of applications: Accumulators – Batteries, Photovoltaics, Electric Vehicle Charging Infrastructure ", Audio-Video equipment, Equipment for Industrial Use, Information Processing equipment.
Characteristics
ELECTRICAL SAFETY
Voltage
Power rating
Insulation class
Frequency
IP
PERFORMANCE CATEGORY
ELECTRIC STORAGE WATER HEATER
Time to heat up
Average water temperature
Temperature difference between start-up and shut-down
The efficiency
The cooling constant
Mixing factor
Internal lining quality
Maintenance consumption
Operation of the temperature sensor
Consumer information
AUTOMATIC THERMODYNAMIC STORAGE WATER HEATERS
The storage capacity
The installed power
COP and thermodynamic coverage rate
Static losses
The quantity of hot water supplied
The time of heating up
The quality of the internal coating
The thermal load
The power of the auxiliaries
DIRECT-ACTING SPACE HEATERS AND DYNAMIC RADIATORS
The temperature of air outlets
Surface temperature
Regulation (drift and amplitude of the room temperature)
Reliability and endurance
Detection of window opening for 3-star or 3-star-eye category devices
Presence/absence detection for 3 star-eye category devices
The coefficient of aptitude for the devices of categories 2 stars, 3 stars or 3 stars-eye
STORAGE HEATERS
Dimensions and mass
The nominal load
Capacity to heat a room
The capacity to retain heat
Heating of external surfaces
Heating of the surfaces surrounding the heater
Temperature stability of the room
The direct-acting heating function
The acoustic level